Aak! My camera is taking pictures that won't load onto my computer. Very frustrating! I have some super cute snowman party things to show you, if I can get them off my camera. Anyone want to give me a new camera? Hey, it doesn't hurt to ask...
So this past weekend I attended a baby shower for my cousin-nephew. Okay really he'd be my first-cousin-through-marriage once removed, but he feels more like a nephew so cousin-nephew it is!*
Out of the 4 cousins, three have kids (two each). There are 5 girls and now finally a BOY! I think this little man may get spoiled. Or he'll be stuck playing dolls and "shopping." Hehe!
Well, this shower was a great opportunity to use my Silhouette. And of course I'm always looking for excuses to use it! I've made lots of cards before. This was the first one I've made without a single stamp. I love boats for little boys!
I did a punch out of the same boat that's on the front, but smaller, on the inside. I LOVE that you get to resize to your hearts desire with this thing!
There will be plenty more cards showcased as I still have all of this year's birthday cards to show you. Have I mentioned this machine is addicting??
*for those of you who don't understand family tree lingo he's my husband's cousin's son.
Linking up here: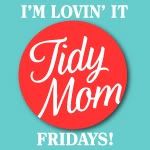 http://tidymom.net/2011/lightscoop-review-giveaway/